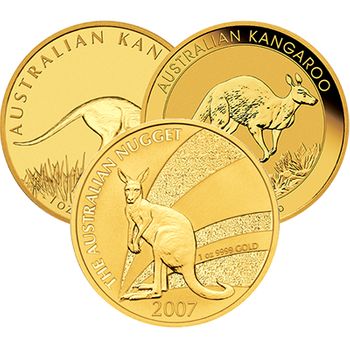 1 oz Australian Kangaroo Gold Bullion Coin - Mixed Dates
Monarch:
Queen Elizabeth II
Denomination:
100 Dollars
Design:
Kangaroo (Dates Of Kjc's Choice)
Condition:
Mint Condition
Packaging:
Acrylic Capsule
All KJC product prices are fully inclusive of insurance for world wide delivery.
Product Description:
Each year, the Australian Kangaroo Gold Bullion Coin Series releases a new design.

An iconic product of The Perth Mint, the gold Australian kangaroo bullion coins are a striking tribute to Australia's most recognisable animal.

First minted in 1986, the Australian Gold Kangaroo coins officially go by the name Australian Gold Nugget. Why? Because the first design of these coins actually featured natural gold nuggets. In fact the first kangaroo only appeared on the coins in 1989.

Each coin is issued as legal tender under the Australian Currency Act 1965, the undisputed guarantee of its weight and purity. Internationally recognised and Highly Liquid.