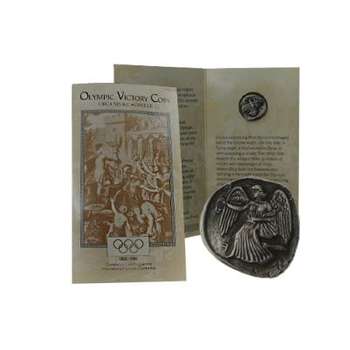 1896-1996 Olympic Victory Medallion
Condition:
Mint Condition
Packaging:
Official Display Card
All KJC product prices are fully inclusive of insurance for world wide delivery.
Product Description:
This authentic replica created by the International Olympic Committee is of the original Greek coin. The coin itself is a treasured piece of history with it being a reproduction of the earliest known coins in the world. The original coin was struck in silver at Elis around 525 B.C honouring achievements of athletes on Olympia sacred fields.

Coin Highlights:
* Minted in .925 fine Silver
* Sponsorship of the National Mint of Greece
* Struck without a collar in order to replicate the irregular shape of the original

The obverse side of the coin depicts a flying eagle sacred to Zeus, seen grasping a snake. The reverse shows the winged Nike, goddess of victory and messenger of Zeus, descending from the heavens carrying in her right hand the Olympic victory wreath. Achieving the reward of the wreath is the highest honour Greek athletes could aspire to.