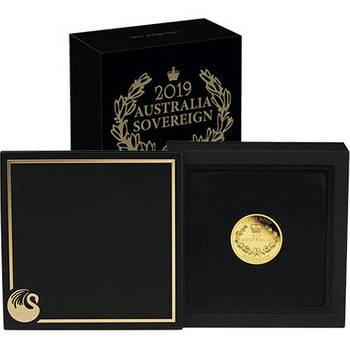 2019 Australian Sovereign Gold Proof Coin
Limited Mintage of 1,000
Monarch:
Queen Elizabeth II
Packaging:
Official Mint Packaging
These items are on a slight delay with availability expected in approx 2 weeks. Your entire order will ship upon their arrival (please note orders will only be dispatched when entire orders are fulfilled).
Product Description:
* Proof quality 22-carat (91.70%) pure gold
* Commemorative reverse design
* Features a 200 privy mark in celebration of the 200th anniversary of Queen Victorias birth
* Australian legal tender
* Limited mintage 1,000
* Prestigious presentation packaging
* Numbered Certificate of Authenticity

This commemorative proof coin celebrates the 200th anniversary of Queen Victorias birth in 2019 while paying tribute to the historic 1855 Sydney Mint sovereign coin designed by Royal Mint Engraver Leonard Charles Wyon, which was the first coin to be produced at The Sydney Mint in 1855.

Under the authority of Queen Victoria, who was the reigning monarch of the United Kingdom and its colonies from 1837 until her death in 1901, a new reverse design was developed to differentiate the Sydney Mint sovereigns from the Imperial coins. In 1857 a bold new effigy of the Queen featuring a sprig of banksia in her hair was circulated and subsequent historic Australian coins incorporated elements of the Imperial sovereigns design.

The coin is struck by The Perth Mint from 91.70% pure gold and issued as legal tender under the Australian Currency Act 1965. The Perth Mint will release no more than 1,000 of the Australia Sovereign 2019 Gold Proof Coin.

The coins reverse portrays the St Edwards crown, a laurel wreath and the word AUSTRALIA, historic elements of Royal Mint engraver Leonard Charles Wyons original Type I reverse. The design also includes the inscriptions PERTH MINT and SOVEREIGN. In celebration of the 200th anniversary of Queen Victorias birth in 2019, the coin also bears a 200 privy mark.
The coins obverse depicts the Jody Clark effigy of Her Majesty Queen Elizabeth II, the 2019 year-date and the monetary denomination.

The coin is housed in a prestigious wooden presentation case within a superbly illustrated shipper, and is accompanied by a numbered Certificate of Authenticity.