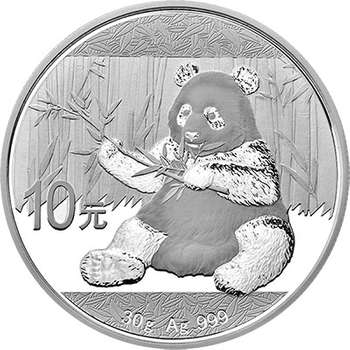 30gram (0.9645oz) 2017 Chinese Panda Silver Bullion Coin (Mint Condition)
99.9% Fine Silver
Condition:
Mint Condition
All KJC product prices are fully inclusive of insurance for world wide delivery.
Product Description:
* 99.9% pure silver
* Chinese legal tender (Yuan)
* Struck by the Peoples Republic of China
* Internationally recognised
* Highly Liquid
* Presented individually in capsules, or in trays of 15, or Monster Boxes of 450
* Perfect Uncirculated quality as issued and each coin in protective capsule

Brand new 2017 Chinese Silver Pandas as issued by the Chinese Mint. Each coin is struck from 30grams of 99.9% pure silver and issued as legal tender with a face value of 10 Yuan. Each coin comes issued in an original capsule from the Chinese Mint with multiples of 15 coins in mint trays.