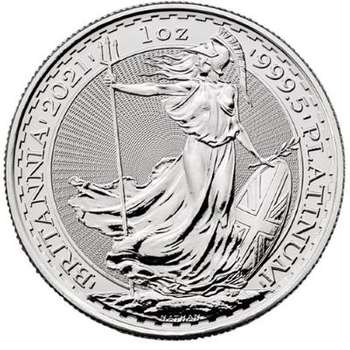 1 oz 2021 Great Britain Britannia Platinum Bullion Coin
Monarch:
Queen Elizabeth II
All KJC product prices are fully inclusive of insurance for world wide delivery.
Product Description:
The 1 oz 2021 Great Britain Britannia platinum bullion coins are well-known for their high quality and verified weight and purity. As one of the oldest bullion coins, Britannia's are an internationally trusted investment option for investors worldwide.

Coin Highlights:
* 1 oz of 99.95% fine platinum
* Britannia design
* Internationally recognised

First appearing on the coins of Emperor Hadrian over 2,000 year ago, the image of Britannia is commonly known as a personification and symbol of national pride for the United Kingdom.

The 2021 Britannia coins feature Philip Nathan's classic design of Britannia on the reverse. Britannia is shown holding a powerful stance in the eye of a storm. She is armed with a trident and shield featuring the British flag.

Britannia coins are issued as official legal tender of Great Britain.

Opened by The Queen in 1968, The Royal Mint is backed by the government of the United Kingdom. Its primary responsibility is to create an distribute coins in circulation for the United Kingdom. Apart from currency in circulation, the mint also produces commemorative coins and investment grade bullion.