Easy navigation
Live spot prices
Online 24/7 365 days
Multiple payment methods
Zero deposit "lock-in" for existing clients
No identification for orders under A$5,000
The KJC website is an entirely 'live to market' online store dedicated to gold and silver bullion. The site is open 24/7 all 365 days of the year with spot prices updated every two minutes directly from market feeds.
How to Find a Product Online
There are two ways to find products on our online store:
Online Navigation
Our category navigation can be found directly under the KJC logo at the top of the website. Using the navigation, you can easily find products by metal type – gold, silver, platinum and palladium and collectables (numismatics).
Online Search
If you have a specific product in mind, you can search for it directly via our search bar. The search will display any products related to your search query.
How To Purchase Online
In order to complete a purchase online, a customer needs to have a KJC Online Account. See below for information on creating your Online Account:
Online Registration / Create Account
New clients need to create a KJC online account with a unique username and password; this can be done at any time and independent of any order, however, must be completed to place any online orders.
Registration is available by clicking "Login" located at the top of the page. Alternatively, registrations can be created at the time of checkout - allowing clients to add products to their basket without an account.
Creating an account is merely a security measure enabling clients to establish their unique username and password, and no identification requirements are applicable unless the total transaction is over A$5,000.
Identification Requirements (Orders over $5,000 only)
Online transactions valued at over A$5,000 can be completed successfully anytime. However, before any product is available for release, the purchaser will need to be compliant with the KJC Identification Requirements.
Purchase Process - Step By Step
1. Register a New KJC Online Account or Login.
2. Select your product and add it to your cart. To begin the checkout process, select the cart located at the top right of the screen.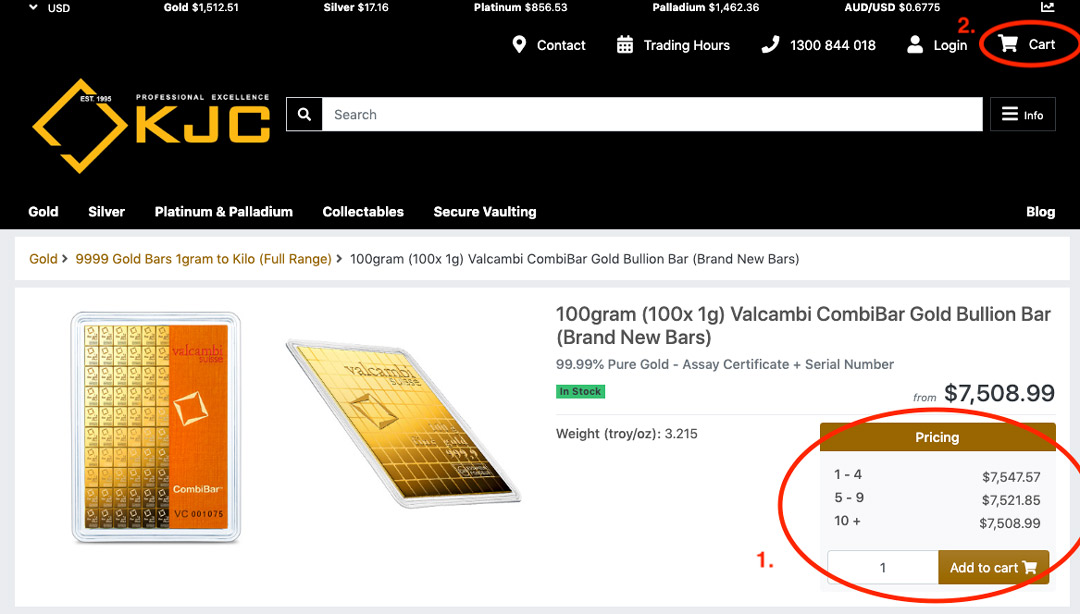 3. In the Shopping Cart, you have the opportunity to update or remove any products. Once you're happy, select 'Begin Checkout'.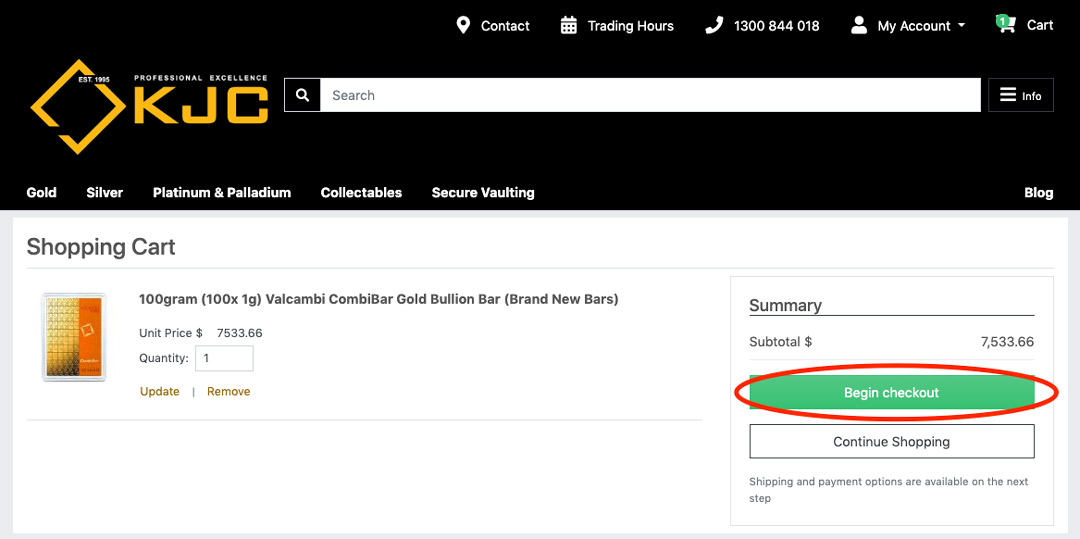 4. On the payment summary page, select your:
Delivery Type:

Collect in store
Shipping
Add to storage

Payment Type:

Zero deposit lock-in: Existing customers can enjoy the privilege of locking-in their order at the current metal price, without needing to pay funds upfront. This option will be available to new customers after they have completed their first order with KJC.
10% deposit lock-in: New and existing customers can lock in their order at the current metal price, by paying 10% of their total order upfront.
Express full payment: New and existing customers can pay upfront the full amount they owe.

Payment Method: For more information on each payment method, please read KJC's Payment Options.

Credit Card (Visa or MasterCard)
POLi
Bitcoin / Bitcoin Cash
Select "Complete Payment" to progress to the next step.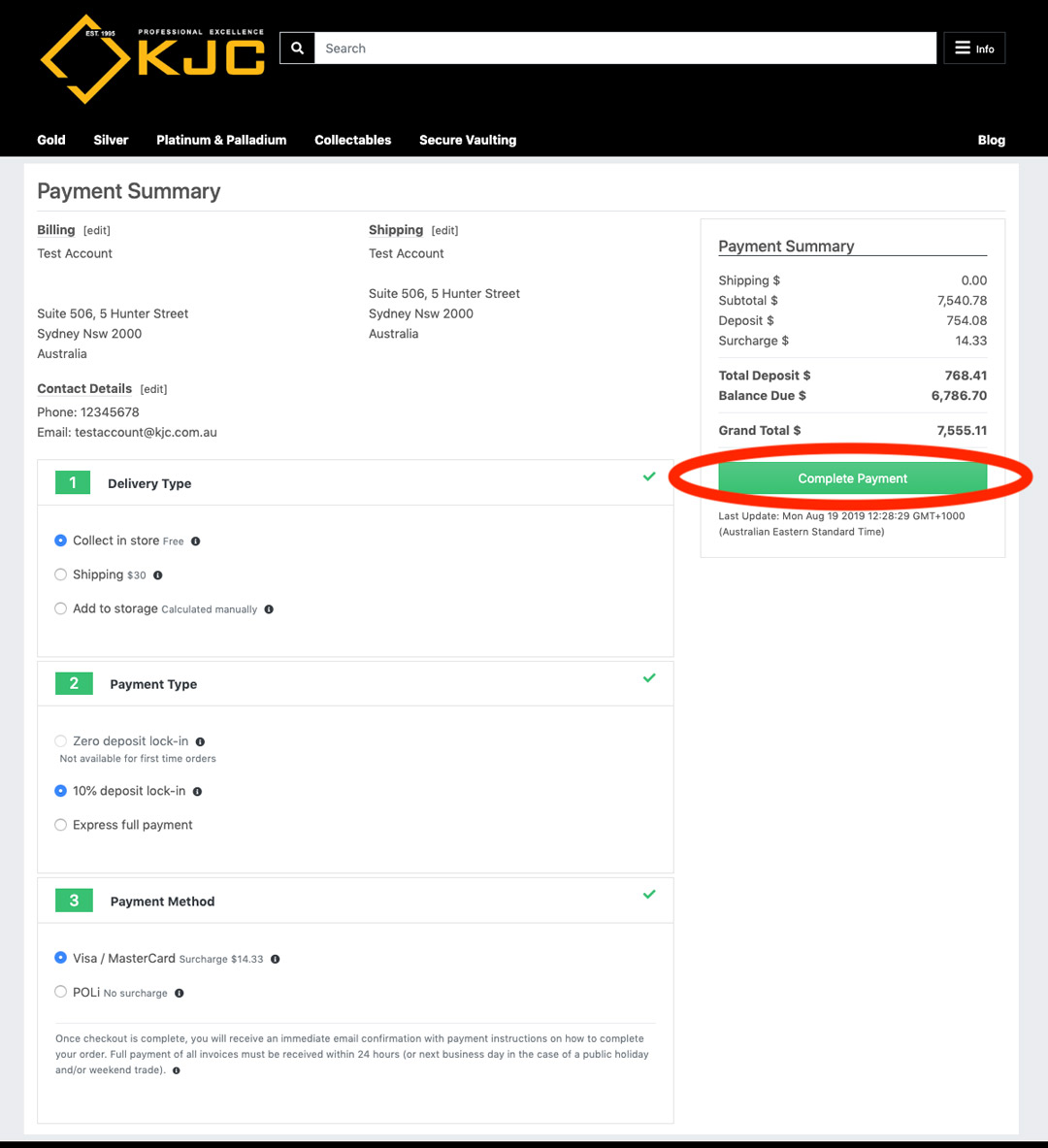 5. If you selected POLi, BitPay or Credit Card as your payment method, you will be redirected to one of the following payment gateways. Simply follow the onscreen prompts to complete payment:
POLi payments (an Australia Post Subsidiary) is available as both 10% and full-payment options and will require you to login to your Australian internet banking account.
BitPay is available for full-payment in either Bitcoin or Bitcoin Cash transfers and will require you to follow the onscreen prompts. A minimum of $3000 and maximum of $100,000 transaction limit applies per order.
Credit card payments (Visa or MasterCard) are available as a 10% deposit option for first-time clients only and are processed through the CommBank simplfy payment system.
6. Once payment is completed, you will be directed to KJC's Order Confirmation page. You will also receive confirmation of your order via email.
KJC's Order Acknowledgement provides full details of the payment options you can use to pay any outstanding balance.
* Balance payments are due within 24 hours or next business day in the case of public holidays.