---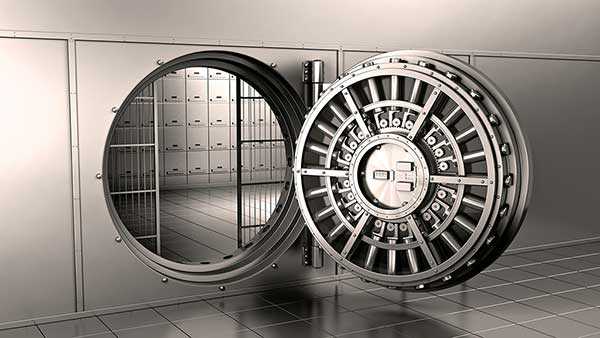 What are the benefits of storing your precious metals?
KJC Secure Vaulting (KJCSV) is a premium, fully allocated product storage solution which allows you to select any product (date, brand, design etc.) for storage with a guarantee that the products you put in are what you will receive back if/when you withdraw them.
A service no other storage provider offers
KJCSV is perfect for those seeking secure and fully allocated deep storage who also want to be able to sell at a moment's notice for ease of liquidation. All bullion stored in the KJCSV system is insured at full replacement value for total peace of mind and stored (by special arrangement between KJC and Prosegur) in the Sydney vaulting facilities of Prosegur.
KJCSV is insured for up to $500,000,000. Prosegur is an international leader in the storage security market. They provide secured storage, inventory management and specialised premises with state-of-the-art technology, construction specifications and monitoring by qualified and specially trained guards. Prosegur entered the public market in 2017 and has over 55,000 employees, 9,000 armoured trucks and over 550 branches and facilities, with over 360 vaults.
Keeping your precious metals safe
Under Australian law, if a storage company goes into liquidation and receivers are appointed, the receivers have the right to take all the goods held by the storage company regardless of who they belong to. Without PPSA protection, you could potentially lose ownership of your precious metal holdings! KJCSV is currently the only vaulting service (to our knowledge) that offers PPSA protection and no matter what happens with KJCSV or Prosegur, your precious metals remain safe and secure.
Storage with the world's leading security company
• PPSA protection
• Fully allocated
• Full replacement value insurance
This is not an industry standard, and it is our belief no other Australian bullion company offers this kind of protection. This puts your holdings at great risk if you choose to store your precious metals outside of KJCSV.
Store your precious metals with KJCSV and know that you are receiving the highest level of protection for your precious metals.
Why store your precious metals with KJC?
Fully Allocated
KJCSV provides fully allocated storage, sealing the exact products you purchase individually with an ID tag linked to your holdings. Upon withdrawal, you receive the same products. In contrast, other companies cannot guarantee identical items and may offer 'similar' ones based on availability. This distinction is crucial for individuals purchasing and storing precious metals through an SMSF, as storage providers without allocated solutions may not meet the strict SMSF regulations.
Onus of Proof
KJCSV comprehensively addresses the onus of proof by undergoing full audits by an accountant and an independent third party, Prosegur. As a result, in the event of a claim, all holdings will have been meticulously documented by both KJCSV and Prosegur.
In contrast, storing your metals with other independent storage or vaulting companies, lacking third-party audits, shift the burden of proof entirely to the individual and leave you responsible for proving the contents of your box/safe during a claim.
The third-party auditing offered by KJCSV and Prosegur eliminates the need to provide proof and ensures accurate auditing of all holdings, aligning with claims standards.
Should a breach occur, proper documentation will be paramount. Insurance companies require proof of stored items, denying claims to clients who cannot substantiate their valuables accurately.
By storing your precious metals with KJCSV, you free yourself of the onus of proof and can rest assured that your metals are fully accounted for.
Remember that if you are storing your precious metals independently without third-party auditing and assurances, how would you ever prove what you put in there to start with, and how do you confirm that when you visited the storage facility, you did not remove the contents?
Shipping of Stored Items
KJCSV offers a convenient solution to international transport, with the ability to transport all holdings to major hubs across the globe, giving you the ultimate portability*. Our shipping service is a huge advantage in today's international marketplace.
Sale of items in storage
KJCSV is designed with our clients in mind and allows you to instantly sell your holdings from the comfort of your home, work or even on holiday. Instruct the secure vaulting team at KJCSV on which items and quantities you want to liquidate. It's that simple! No transport is required and therefore no security risk.
Once all is finalised, payment will be made directly into your account quickly and easily. This service is crucial and convenient, as other storage facilities require your physical presence when removing your holdings from storage, whereby you must transport your holdings yourself to your nominated dealer.
In today's fast-paced world, with more and more people working remotely and overseas, this is a significant advantage to storing with KJCSV.
Please note when you transport your own metals they will be uninsured.
Complimentary quarterly market valuation
Clients who store their metals with KJCSV receive complimentary quarterly market valuations of their storage accounts. This service ensures that you have an up-to-date market valuation accurately reflecting your metal value to full replacement value. This is imperative for SMSF accounts and meeting ATO requirements.
The Process
Storing your precious metals with KJCSV is an easy process; when purchasing online select the products you wish to order as usual, then on the final stages in the checkout, select the 'storage' option. Alternatively, clients can also choose to place items into storage when purchasing at the KJC retail counter or by phone and may also enter the KJCSV system later.
Once all items in your order are available and ready to be sent to the KJCSV facility, our team will securely package your order. We invite you to come in-store to our Sydney CBD showroom, private client room where you can personally watch your KJCSV order being packaged and sealed.
Alternatively, if you cannot attend, we provide photos and continuous video footage for your peace of mind and assurance that everything you ordered has been included and sealed. Once all orders are securely packaged, your order will be sealed with security tape featuring a unique number and sent via security transport to our vaulting facility.
Rates
The KJCSV Storage rates (GST exclusive) are calculated on a fixed scale per annum (pa) percentage of the current value of your holdings (see Storage Rate table below). Storage values are allocated to all products on each individual account at the end of each quarter on a financial year basis (July 1st to June 30th) thus September (Q1), December (Q2), March (Q3) and June (Q4), at which time clients will receive their quarterly KJC storage bill.
STORAGE RATES PER ANNUM (GST Exclusive)
Gold, Platinum, Palladium & Rhodium
0.75% pa
Silver
1.5% pa
Please note, a minimum charge of $62.50 per full quarter applies per storage account
The KJCSV quarterly storage charges are totally non-refundable or adjustable when any items are removed and/or sold prior to the end of the current fiscal quarter.
To ensure fairness, for new clients entering the KJCSV system, their 1st quarter bill will be pro-rated to the current month. For example, a new client entering the KJCSV system on November the 20th would be billed storage for the month of November and December only in the December (Q2) quarter. Please note that the invoice for a quarter is issued the following month, e.g. for the December quarter it will be issued in January. New clients will be invoiced at time of purchase/inlay of storage. KJCSV statements can be paid via bank transfer or credit card – all details will be listed on KJCSV invoice.
A few things to note:
• For both billing, auditing and all other purposes each separate person and/or entity will be considered a totally separate storage account and this is irrespective of whether any individual and/or entities may be related in any way.
• A minimum full quarterly storage account charge of $62.50 (or $20.83 per month if prorated) applies per storage account.
• For example, Mr. Smith has 10 by 1oz gold bars in storage with KJCSV, which on the last day of the September calendar month, are valued at $3,000 each thus the total account value for the September quarter (Q1) would be $30,000 and therefore the storage charge for the September quarter (Q1) would be 0.75% of $30,000 = $225 divided by 4 which is $56.25, however, as this is under the minimum charge of $62.50 per quarter his September (Q1) quarter KJCSV storage bill would automatically revert to $62.50.
Special Services
Selling your metals
When you are ready to sell your metals simply give us a call or send an email advising what products and quantities you would like to sell, and we can provide indicative pricing. All we require to lock in your sale is written confirmation and signed purchase paperwork – it is that easy! Please note all standard identification requirements will still apply to all KJCSV sales including security passwords where applicable.
Withdrawing your holdings
We offer complimentary quarterly withdrawal for all clients – all that we require is 30 days written notice prior to the end of the upcoming quarter (September Q1; December Q2; March Q3 and June Q4). Should you wish to collect your metals we will notify you once they are available for collection at our Sydney CBD showroom, alternatively if you wish to have your metals shipped to you, you will be supplied a custom freight quote for the specialised delivery prior to dispatch.
A few things to note:
Our minimum KJCSV fee is $250 p.a. Therefore, if you have stored your holdings with KJCSV for less than 12 months and choose to withdraw, please note that for any accounts where storage fees paid are less than $250 the difference must be paid prior to release.
If you wish to receive your withdrawn items immediately there will be an applicable Dedicated Express release Fee ($275) which will expedite your collection/delivery via a special dedicated release and will be limited up to 200 kg in weight.
Disclaimer
Please note, all pricing included in this brochure is GST exclusive
All information is general information only
Please note all freight fees of withdrawn metals are at the KJCSV client expense.
FAQ
Do you store them on-site?
Whilst KJCSV is primarily held at the Prosegur Sydney vaulting facilities the exact location is not publicised to the world or advertised in order to ensure the safety and security of your stored metals.
There may, however, be times when the goods are pending delivery from one of our worldwide suppliers and/or held at the KJC facilities awaiting to be scheduled in with one of the quarterly KJC deliveries in and out of the Prosegur storage facilities.
Please note, KJCSV is a deep storage solution and as such your holdings cannot be accessed or viewed at any point in time whilst in the KJCSV system unless via Dedicated Express release.
Do you offer unallocated storage?
We do not offer any unallocated storage, KJCSV exclusively offers premium fully allocated secure vaulting with complete peace of mind at an affordable price point. This is the best way to store your precious metals securely to protect your investment.
How long does it take to get my precious metals out of storage?
Once withdrawal is initiated you can receive your metals in as quickly as 2-3 business days (dedicated express release). However, if you want complimentary withdrawal then it can take up to 4-6 weeks as we require at a minimum 30 days written notice of intention to withdraw prior to the end of the following quarter. Please note all timeframes are approximate reference points only and while we do our best to get your metals to you as quickly as possible timeframes may be extended.
Can I add to my storage account?
Yes, you can continue to purchase through KJC Coins Australia and have your items added to your KJC Secure Vaulting account. Each time a new product or item is added you will receive updated statements reflecting this change.