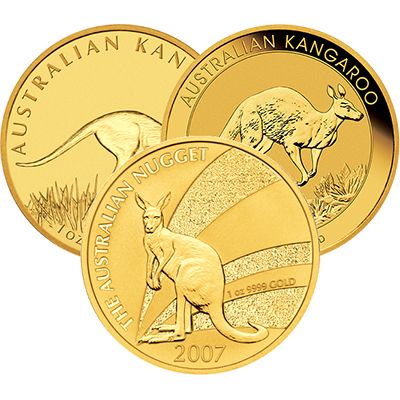 1 oz Australian Kangaroo and Nugget Gold Bullion Coin - Mixed Dates
Random selection of older styles of the current Australian gold coin favourite
Monarch:
Queen Elizabeth II
Denomination:
100 Dollars
Design:
Kangaroo (Dates Of Kjc's Choice)
Packaging:
Acrylic Capsule
All KJC product prices are fully inclusive of insurance for world wide delivery.
Product Description:
The Perth Mint Nugget and Kangaroo Bullion Coin Series are two highly respected and sought-after coin collections that have gained worldwide recognition.

The series was first introduced in 1986 and featured a depiction of a gold nugget on the reverse side. However, in 1989, the design was changed to feature a kangaroo instead. The Perth Mint Kangaroo Bullion Coin series was launched in 1990 and features a kangaroo design on the reverse side which has continued to this day.

Both the Nugget and Kangaroo coin series are minted to the highest standards of quality. They carry legal tender status in Australia, which ensures their authenticity and purity.

* Australian legal tender
* Struck by the Perth Mint
* Internationally recognized
* Highly liquid

The Perth Mint is known for its innovative designs and high-quality production, which makes these coins highly sought-after among collectors and investors alike. The coins are also backed by the Western Australian Government, which adds to their appeal and reputation for reliability..