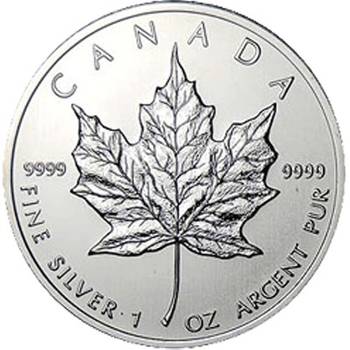 1oz Canadian Maple Leaf Silver Bullion Coin (Mint Condition) - Dates of KJC's Choice
99.99% Pure Silver Coin - Now on Special While Stocks Last!
Mint:
Royal Canadian Mint
Monarch:
Queen Elizabeth II
Design:
Maple Leaf (Dates Of Kjc's Choice)
Condition:
Mint Condition
Product Description:
* 99.99% pure silver
* Canadian legal tender
* Internationally recognised
* Highly liquid
* Canadian legal tender value of $5 each - the highest of all 1oz silver bullion coins
* Orders in multiples of 25 are sent in mint tubes
* Photo is an indication only coins will be dates of KJC's choice depending on our inventory in stock

The Silver Maple Leaf is the official silver bullion coin of Canada and has been minted by the Royal Canadian Mint since 1988.

Each coin is struck from 99.99% pure silver, above the international standard of 99.9% purity, while the face value of 5 Canadian Dollars gives it the highest legal tender value among international silver bullion coins. The obverse features a portrait of Queen Elizabeth II and the reverse design features a maple leaf, a widely recognised symbol of Canada. All coins are inscribed with the purity and the inscription 'Fine Silver 1oz Argent Pur'.