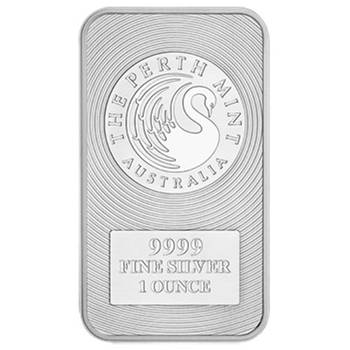 1oz Perth Mint Kangaroo Minted Silver Bar (Brand New Bars)
Engraved Security Feature & 99.99% Pure Silver (Four Nines)
Product Description:
* 99.99% pure silver
* Produced by Perth Mint
* High quality minted finish
* Internationally recognised
* Highly liquid
* Available in minted sealed tubes of 20 and monster boxes of 200 pieces

Silver investors can now acquire the precious metal of their choice in the form of 1oz Kangaroo Minted Silver Bars manufactured by the world-renowned Perth Mint.

This silver bullion minted bar features a struck version of The Perth Mints LBMA registered mark on a table of radiating circles.

Included on the front is the inscription 9999 FINE SILVER, which incorporates a tiny P mintmark within the last nine. This authentication feature is designed to make it significantly more difficult for the bar to be counterfeited although we strongly recommend buyers only purchase from trusted sources.