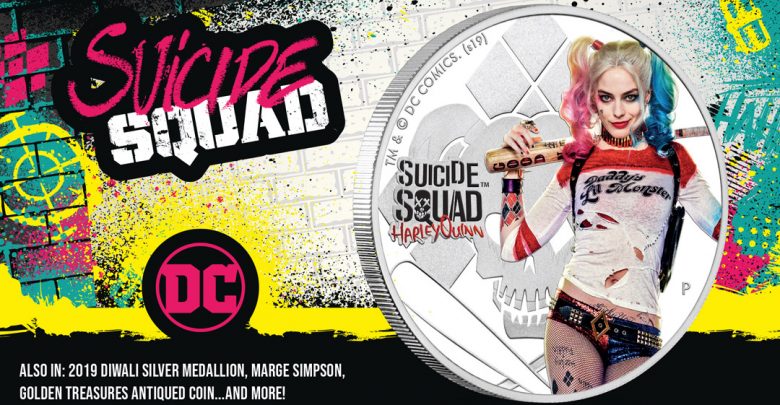 Here's what's new from The Perth Mint this July:
1oz 2019 The Simpsons Marge Simpson Silver Proof Coin
Introducing the sixth release of the top selling 'The Simpsons' coin series: 1oz 2019 Marge Simpson Silver Proof Coin.  This series has been so popular that the first five releases have already sold out.  Get in quick!
1oz 2019 Suicide Squad Harley Quinn Silver Proof Coin
Joining last month's release of The Joker, the latest release of the Suicide Squad series is his dysfunctional lover Harley Quinn.  The 1oz Silver Proof Coin features Harley Quinn as played by Margot Robbie in the 2016 Suicide Squad film.   With her comical, crazy and chillingly evil personality, Harley Quinn is a DC Comic fan favourite.
2oz 2019 Golden Treasures Of Ancient Egypt Antiqued Silver Coin
This Egyptian themed coin has been individually antiqued and features 24 carat gold particles encased in a perspex dome in the centre of the coin.  The dome is surrounded by ancient hieroglyphics and symbols.
The coin is housed in a pyramid shaped display case, the top of which opens to reveal the coin.
2019 Australia Double Sovereign Proof Coin
This commemorative proof coin celebrates the 200th anniversary of Queen Victoria's birth while paying tribute to the historic 1855 Sydney Mint sovereign coin designed by Royal Mint Engraver Leonard Charles Wyon.  The 1855 sovereign was the first coin to be produced at The Sydney Mint in 1855.
1oz Diwali Silver Medallion
The 1oz Diwali Silver Medallion coin celebrates Diwali, the ancient Hindu 'festival of lights'.  The coin features a coloured representation of Lakshmi and Ganesha sitting on lotus flowers.  During Diwali Ganesha is revered as the deity of intellect, arts and sciences and the remover of obstacles.  He is worshipped with Lakshmi to welcome wisdon along with wealth.
2019 Welcome Stranger Four Coin Gold Proof Set
This incredible four-coin set marks 150 years since the discovery of the Welcome Stranger gold nugget. The world famous Welcome Stranger nugget is the largest known alluvial gold nugget ever found, estimated to weigh a total of 72 kilos and containing almost 2,300oz of gold.
1/4oz 2019 Welcome Stranger Gold Proof Coin
1oz 2019 Australian Kangaroo High Relief Gold Proof Coin
1oz 2019 Australian Kangaroo High Relief Silver Proof Coin