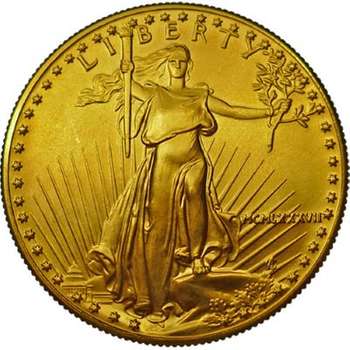 1 oz 1987 American Eagle Gold Bullion Coin
Designer:
Augustus Saint-Gaudens / Mary Busiek
All KJC product prices are fully inclusive of insurance for world wide delivery.
Product Description:
The U.S. Gold eagle, released in 1986 by the renowned U.S. Mint. This coin pays homage to the original pre-1933 gold eagle and uses a similar design.

Obverse: Augustus Saint Gaudens rendition of Lady Liberty,
Reverse: Family of American Eagles

Each coin Contains 91.67% gold (22 karat), 3% silver, and 5.33% copper

* 22ct gold (91.67% pure)
* Contains 1oz of gold
* Iconic Lady Liberty design
* Internationally recognised
* US legal tender
* Backed by the US Government
* GST included in price

The 1987 1 oz American Gold Eagle has a mintage of 1,045,500.