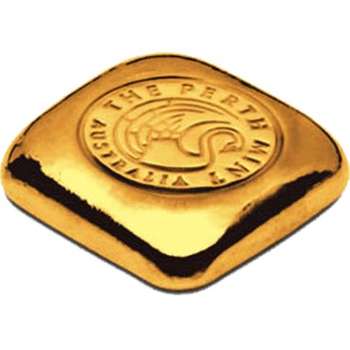 1 oz Perth Mint Gold Bullion Cast Bar
All KJC product prices are fully inclusive of insurance for world wide delivery.
Product Description:
London Bullion Market Association (LBMA) accredited Good Delivery Bran. This means these bars are tradable worldwide without the need for re-assay.High quality minted finish, Internationally recognised & Highly liquid.

Perth Mint Swan logo (may vary between old/new logo)

The Perth Mint located in Perth, WA Australia is Australias leading precious metal refiner. Backed by the Western Australian government The Perth Mint produces Australias legal tender gold and silver bullion coin program, the Kangaroo and Lunar gold coin series (99.99% fine gold) and the Kookaburra, Koala and Lunar silver coin series (99.9% fine silver).

The Perth Mint also produces a large range of Minted gold bars each sealed in their own tamper-proof and serial numbered certicards all struck to the same high quality as the gold coin series (99.99% fine gold), as well as producing a large range of cast gold (99.99% fine gold) and silver (99.9% fine silver) bullion ingots.