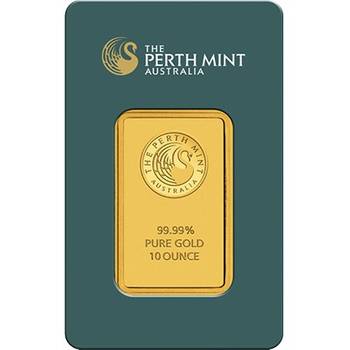 10 oz Perth Mint Gold Bullion Minted Bar
Product Description:
Perth Mint Minted Gold Bars feature an innovative tamper-proof display card which the bar is blister packed into, individually serial numbered and signed by the Chief Assayer of the Perth Mint which insures that the Minted Gold Bar is exactly as it was from leaving the Perth Mint.
These offer a slight saving over minted gold bullion coins, however, will remain absolutely tradable worldwide without any question as they are struck by the government owned and world renowned Perth Mint and are Highly Recommended by KJC Coins Australia Pty Ltd.

* 99.99% pure gold (24k)
* Assay certificate & serial number
* LBMA accredited Good Delivery Brand
* High quality minted finish
* Tamper-proof packaging
* Internationally recognised
* Highly Liquid

The Perth Mint
The Perth Mint located in Perth, WA Australia is Australias leading precious metal refiner. Backed by the Western Australian government The Perth Mint produces Australias legal tender gold and silver bullion coin program, the Kangaroo and Lunar gold coin series (99.99% fine gold) and the Kookaburra, Koala and Lunar silver coin series (99.9% fine silver).
The Perth Mint also produces a large range of Minted gold bars each sealed in their own tamper-evident and serial numbered certicards all struck to the same high quality as the gold coin series (99.99% fine gold), as well as producing a large range of cast gold (99.99% fine gold) and silver (99.9% fine silver) bullion ingots.

The Perth Mint tamper-evident case
Gold bullion minted bars portray a struck version of The Perth Mint logo and carry an inscription of their weight and purity. Decorated on the back with kangaroo motifs, each minted bar comes in a serial numbered, tamper-evident display card.