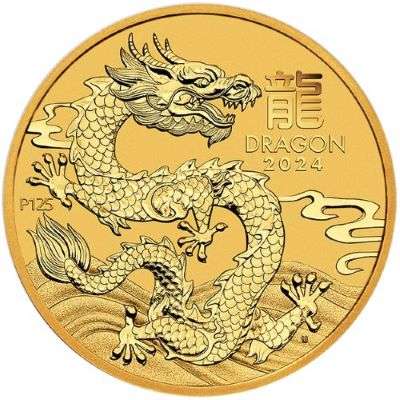 1/4 oz 2024 Australian Year of the Dragon Gold Bullion Coin
Perth Mint's Newest Coin representing Confidence, Power & Good Fortune
Monarch:
Queen Elizabeth II
Designer:
Ing Ing Jong/Jody Clark
Packaging:
Acrylic Capsule And Display Box
All KJC product prices are fully inclusive of insurance for world wide delivery.
Product Description:
These magnificent 2024 1/4 oz Gold Bullion coins from The Perth Mint celebrate the Year of the Dragon, the fifth of twelve animals associated with the ancient Chinese lunar calendar. The dragon is known to be one of the most opportune and powerful signs in the Chinese zodiac. It symbolises strength, success, and good fortune. Chinese astrology describes people born in the years of the dragon, such as 2024, 2012, 2000, 1988, 1976, and every 12th year before that as confident, ambitious, charismatic, and intelligent.

*Issued as legal tender under the Australian Currency Act 1965
*99.99% pure gold
*Australian legal tender
*Tribute reverse artistry
*125th anniversary mintmark

To outsiders, the figure of a dragon could seem chaotic and overpowering, but in reality, this hides the Dragon's symbol of strength, confidence and fortune. A dragon should always therefore be viewed as a powerful yet in control figure.

On the reverse, one can admire the artful depiction of waves and stylised fog that envelop the magnificent dragon. Alongside it is the Chinese symbol representing this mythical creature, as well as the 125th-anniversary mintmark, celebrating the Perth Mint's long-standing tradition. Furthermore, the iconic effigy of Queen Elizabeth II, commemorating her enduring reign, graces this year's lunar edition on the coins obverse, underscoring the it's fineness, purity & denomination.

Each bullion coin is presented in a protective acrylic capsule.