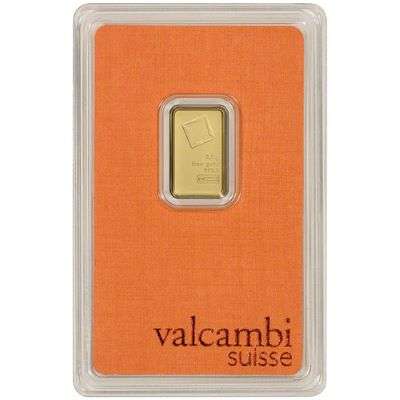 2.5 g Valcambi Gold Bullion Minted Bar
Hard to find minted gold bar from reputable Swiss mint - arriving soon
All KJC product prices are fully inclusive of insurance for world wide delivery.
Product Description:
This 2.5 gram Gold Minted Bar is produced by Valcambi, a leading Swiss precious metals refinery. The bar is made from 99.99% pure gold, also known as "four nines" gold.

* 99.99% pure gold
* Assay certificate & serial number
* LBMA accredited Good Delivery Brand
* High quality minted finish
* Tamper-evident packaging
* Internationally recognised
* Highly Liquid

It measures approximately 15mm x 25mm, and is around 1.2mm thick. The front of the bar features the Valcambi logo, which consists of a square with rounded corners and the letters "CHI" inside, representing the company's headquarters in Chiasso, Switzerland. Below the logo, the bar is stamped with the weight and purity of the gold, which reads "2.5g FINE GOLD 999,9".

The reverse side of the bar features a repeating pattern of the Valcambi logo in a diagonal line, which provides a unique visual texture to the bar. This side also includes a unique serial number, which is engraved vertically in small letters along the left edge of the bar. This serial number serves as a form of authentication, ensuring that the bar is a genuine Valcambi product.

This product is ideal for those who wish to invest in physical gold in small increments. Its compact size makes it easy to store and transport, while its high level of purity ensures that it retains its value over time.