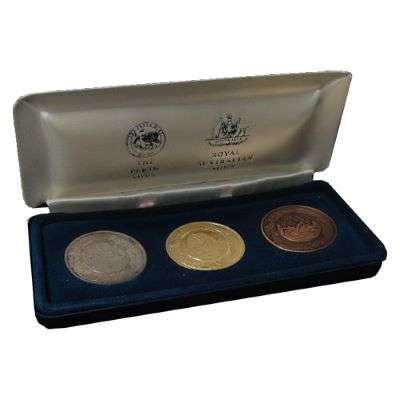 2000 Sydney Paralympic Games Miniature Replica Victory Medallion Boxed Three Coins Set
Mint:
Perth Mint And Royal Australian Mint
Design:
Sydney Harbour Bridge, Opera House and locations of seven of the Paralympic sports venues.
Designer:
Dr Stuart Devlin Ao Cmg
Packaging:
Official Display Case
All KJC product prices are fully inclusive of insurance for world wide delivery.
Product Description:
The set comprises of one gold plated, one silver plated and one antique medallion, each of which is miniature replica of the Sydney 2000 Paralympic games Victory Medals.

This boxed set was minted and inspected by The Pert Mint and are miniature replicas of the Sydney 2000 Paralympic Games Victory Medals.

Maximum of 5,000 sets were issued. Coins are in a display box with certificate of authenticity.

Please note that the box or case may be slightly worn or marked and some coins may be tarnished.