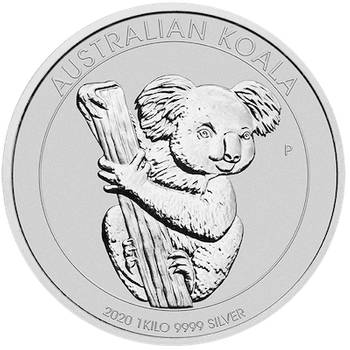 1 kg 2020 Australian Koala Silver Bullion Coin
Monarch:
Queen Elizabeth II
Packaging:
Acrylic Capsule
Weight (troy/oz):
32.1507
Product Description:
Trusted investment options

Each coin is issued as legal tender under the Australian Currency Act 1965, the undisputed guarantee of its weight and purity. Internationally recognised and Highly Liquid.

Depicting one of Australias most beloved animals, the Australian koala silver coins pay tribute to our rich wildlife.

No mintage limit applies to the 1 kilo coin, however production will close at the end of 2020 and The Perth Mint will declare the coins official mintage.

Reverse: portrays a koala holding onto a tree branch. The inscription AUSTRALIAN KOALA, The Perth Mints traditional P mintmark, the 2020 year-date, and the weight and purity are also included in the design. A security feature in the form of a micro-laser engraved letter within the coins AUSTRALIAN KOALA inscription. It is only detectable under a magnifying glass.