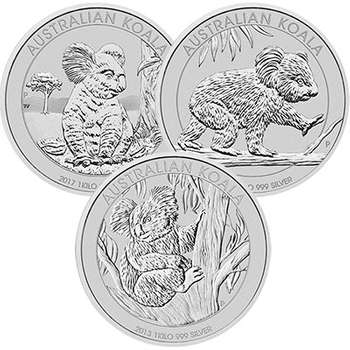 1 kg Australian Koala Silver Bullion Coin- Mixed Dates
Monarch:
Queen Elizabeth II
Condition:
Mint Condition
Packaging:
Acrylic Capsule
Weight (troy/oz):
32.1507
All KJC product prices are fully inclusive of insurance for world wide delivery.
Product Description:

* Australian legal tender
* Government assurance of weight and purity
* Iconic koala artistry
* Photo an indication only - dates of KJC's choice

The Australian Silver Bullion Coin Program offers investors a unique combination of quality, convenience and choice.

Meticulously struck by the Perth Mint from 99.99% pure silver, each coin in this program is issued as legal tender under the Australian Currency Act 1965.

Photo is an indication only actual coins provided will be dates of KJC's choice.