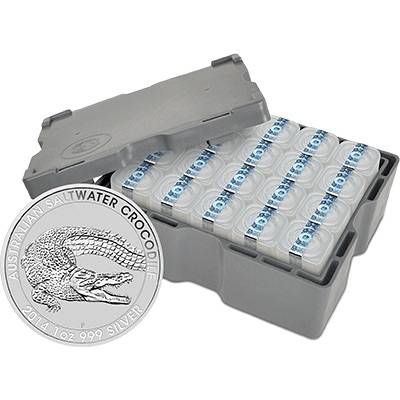 1 oz 2014 Australian Saltwater Crocodile Silver Bullion Coin - 500 oz Monster Box
Rarely ever available
Monarch:
Queen elizabeth 11
Denomination:
1 Dollar AUD
Condition:
Mint Condition
Weight (grams):
15551.738
Product Description:
* Rarley ever available
* Australian legal tender
* Saltwater Crocodile design

The Saltwater Crocodile is the largest reptile in the world in terms of body mass, and is found in suitable habitats from northern Australia through Southeast Asia to the eastern coast of India.

Males can reach up to 7 metres in length and can weigh over 1,000 kilograms, while females are significantly smaller, generally reaching only 4 metres in length, and weighing up to 100 kilograms.

Despite their name, the saltwater crocodile not only inhabits salt water but is just as happy in fresh, brackish and saline water in ponds, swamps, lakes, creeks, streams, rivers, billabongs and the ocean.

The saltwater crocodile is an extremely formidable and opportunistic predator capable of killing almost any animal that enters its territory, propelling itself through the water with surprising speed. Their sheer enormity makes them the most dangerous of all crocodiles to humans.

Reverse: features a large saltwater crocodile with its mouth open, displaying its sharp teeth. It also features the inscription AUSTRALIAN SALTWATER CROCODILE, the 2014 year-date and coin specifications as well as The Perth Mints traditional P mintmark.

The coins obverse bears the Ian Rank-Broadley effigy of Her Majesty Queen Elizabeth II and the monetary denomination.

with The Perth Mints tamper evident security seal.

Please note this is an origional box and tubes ,however,the origional straps have worn away we have sealed the box with tape.