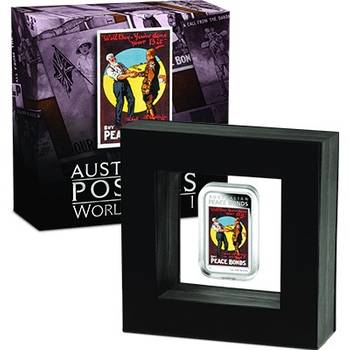 1 oz 2018 Australian Posters of World War I Peace Bonds Silver Proof Coin
Special Rectangular Coin Shape
These items are on a slight delay with availability expected in approx 2 weeks. Your entire order will ship upon their arrival (please note orders will only be dispatched when entire orders are fulfilled).
Product Description:
* Proof quality 99.9% pure silver
* Australian peace bonds reverse design
* Final release in five-coin series
* Australian legal tender
* Limited mintage of 5,000
* Presentation packaging
* Numbered Certificate of Authenticity

Following the end of the First World War, the Australian Government launched a series of Peace Loan campaigns, which were managed by the Commonwealth Bank of Australia, with the aim of recouping the costs of the war and helping to fund the pensions of returned servicemen. The sale of the bonds also assisted with the resettlement of ex-servicemen including the construction of housing, as well as training and employment schemes.

The first peace loan was announced on 30 July 1919. The amount requested was 25 million, equivalent to approximately 1.1 billion today. Similar to the war loans campaign that ran from 1915 until 1918, promotional posters were developed and published in newspapers encouraging the general public to buy peace bonds. The bonds functioned the same way that the war loans had previously - people lent the government money which would be repaid with interest.

In 1919, as part of the initial peace bonds promotional campaign, the Well Boy - Youve done your Bit. What will Australia do for you? poster was launched. The poster symbolised that even those who were not eligible for recruitment could still provide assistance and do their bit for their country. The design depicted a young veteran in uniform being welcomed back to civilian life by an elderly farmer, with his flock of sheep and a drover in the background.

Struck by The Perth Mint from 1oz of 99.9% pure silver in proof quality, the coin is issued as legal tender under the Australian Currency Act 1965. The Perth Mint will release no more than 5,000 of the Australian Posters of World War I - Australian Peace Bonds 2018 1oz Silver Proof Rectangle Coin. The coins reverse features a coloured representation of the Buy Peace Bonds poster headed by the inscription AUSTRALIAN PEACE BONDS. The Perth Mints traditional P mintmark and the coins weight and fineness also appear in the design. The coins obverse depicts the Ian Rank-Broadley effigy of Her Majesty Queen Elizabeth II, the monetary denomination and the 2018 year-date.

The coin is housed in a contemporary latex case which displays both sides of the coin. The case is packaged
within a themed shipper, and is accompanied by a numbered Certificate of Authenticity.

The Australian War Memorial logo is a registered trademark of the Australian War Memorial TM & 2018.