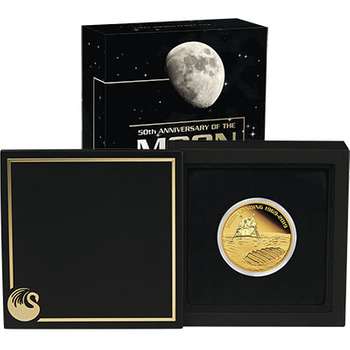 1 oz 2019 50th Anniversary Of The Moon Landing Gold Proof Coin
Limited Mintage of Just 500 Coins!
Monarch:
Queen Elizabeth II
Denomination:
100 Dollars
Design:
50th Anniversary Of The Moon Landing
Designer:
Jody Clark/Lucas Bowers
Packaging:
Official Display Case
All KJC product prices are fully inclusive of insurance for world wide delivery.
These items are on a slight delay with availability expected in approx 2 weeks. Your entire order will ship upon their arrival (please note orders will only be dispatched when entire orders are fulfilled).
Product Description:
* Australian legal tender
* 99.99% pure gold
* Celebrate the 50th anniversary of mankinds first landing on the moon
* Limited mintage of 500
* Numbered Certificate of Authenticity
* Presentation display case


This beautiful gold coin celebrates the 50th anniversary of mankinds first landing on the moon. The successful landing of United States spacecraft Apollo 11s Lunar Module Eagle on the Moon was watched by more than half a billion people in 1969. Humanity collectively held its breath as astronaut Neil Armstrong stepped onto the Moons surface, proclaiming, Thats one small step for (a) man, one giant leap for mankind.

The pulse of humanity rose as Apollo 11 was launched on 16 July 1969. An estimated 600 million people across the world watched on TV thanks in part to Australias CSIRO Parkes radio telescope and NASAs Honeysuckle Creek tracking station near Canberra as it made its successful flight to the Moon. The 1969 achievement of the US National Aeronautics and Space Administration, or NASA, paved the way for continued development of advanced technology to explore Earth, the Moon, other planets and the distant reaches of space.

Each coins reverse portrays a representation of the Lunar Module Eagle landing on the Moon behind a large footprint on the Moons surface. The design includes the inscription MOON LANDING 1969-2019. Each coins obverse depicts the Jody Clark effigy of Her Majesty Queen Elizabeth II and the monetary denomination.

The 1oz gold coin is housed in a classic display case with a wooden lid. Each coin is packaged within an illustrated shipper and accompanied by a numbered Certificate of Authenticity.