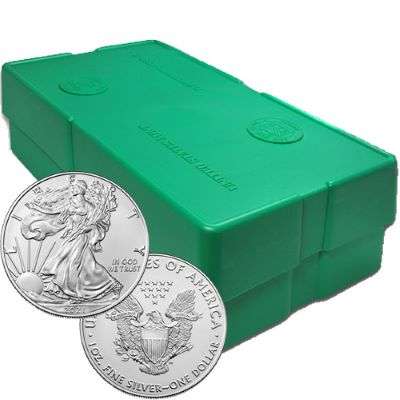 1 oz 2021 American Eagle Silver Bullion Monster Box of 500 Coins
Designer:
John M. Mercanti
All KJC product prices are fully inclusive of insurance for world wide delivery.
Product Description:
The Silver Eagle is the official silver bullion coin of the USA and has been minted by the US Mint since 1986.

The obverse design features Walking Liberty who first appeared on the US Half Dollar coin and the reverse design features a heraldic eagle behind a shield. All coins also feature the inscription '1oz Fine Silver - One Dollar'.

Obverse: Adolph A. Weinman's famed design depicting Lady Liberty draped in an American flag, walking gracefully as the sun rises over a ridge.

Reverse: A heraldic eagle is shown below 13 small stars, representing the original 13 colonies.

Compact plastic box that holds 25 tubes (20oz per tube thus 500oz total).