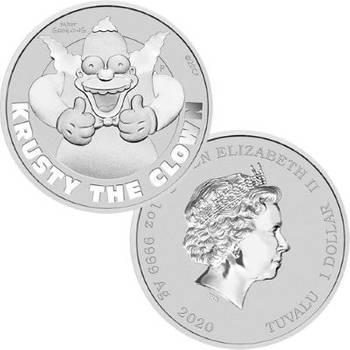 1 oz 2020 Krusty The Clown Silver Coin
Monarch:
Queen Elizabeth II
Packaging:
Presentation Card
These items are on a slight delay with availability expected in approximately 1 week. Your entire order will ship upon their arrival (please note orders will only be dispatched when entire orders are fulfilled).
Product Description:
One of The Simpson's most popular characters, Krusty the Clown is now available in a unique collectable 1oz silver coin – perfect for fans of the series.

Also known as Herschel Shmoikel Pinchas Yerucham Krustofsky, Krusty is the host of Bart and Lisa Simpson's favourite show, 'The Krusty the Clown Show.' While highly successful, Krusty is comically written as a cynical, burnt-out personality, who continues in showbusiness despite how miserable it makes him.

The 2020 1oz Krusty The Clown Silver Coin is struck from 99.99% pure silver and features Krusty the Clown smiling with two thumbs up and Matt Groening's signature.

Each coin is issued as legal tender under the Government of Tuvalu. No more that 2,500 coins will be issued in card packaging.