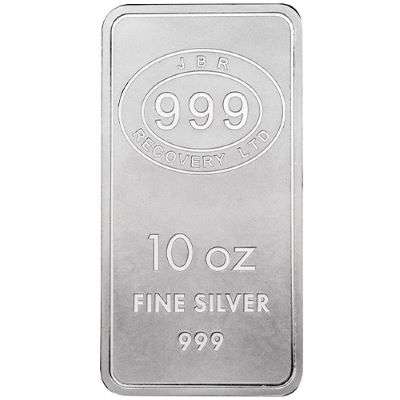 10 oz JBR Icons of Britain Silver Bullion Bar - 500 oz Master Box
Condition:
Brand New Bars
Packaging:
Sealed Plastic
All KJC product prices are fully inclusive of insurance for world wide delivery.
These items are on a slight delay with availability expected in approx 6-8 weeks. Your entire order will ship upon their arrival (please note orders will only be dispatched when entire orders are fulfilled).
Product Description:
JBR Recovery Ltd. offers silver bullion specimens to investors that are refined from silver that has been responsibly recycled from various secondary and waste resources. JBR recovers these coveted precious metals and is able to refine the metals back to purities of at least .999 for the production of cast bars, minted ingots, and rounds. Making JBR one of the leaders in responsible recycling on/in the market.

The 10 oz bars are available in mint-sealed Master Boxes of 50 bars.

Key Features

* Icons of Britain Series and LBMA good delivery refiner.

*Sold in a master box of 50 Bars

*Impressive silver minted ingots

*Contains 10 Troy oz of .999 pure silver.

*Obverse features the company logo and identifying markers

*Reverse comes with various symbols of British life and culture

For the obverse design of the 10 oz Silver Bar from JBR Recovery Ltd. features the company logo at the top of the bar. The logo is an oval shape with 999 inscribed at the centre and JBR Recovery Ltd. inscribed around the outside. At the bottom of the silver bar are the inscriptions of 10 oz, Fine Silver, and 999.

In the reverse field of 10 oz Silver Bars, JBR Recovery features various iconic symbols of Britain as part of its Icons of Britain Series. The Items chosen reflect the overall culture of Britain and are recognisable around the world. Some of these symbols represent the thousand-year-old monarchy of England, such as the members of the Queen's Guard represented both on foot and on horseback. Other symbols are more generic representations of English life, such as the double decker bus, soccer balls and teacups.