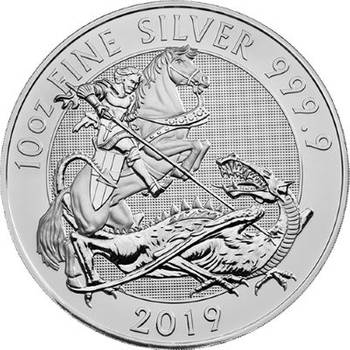 10oz 2019 Great Britain Valiant Silver Bullion Coin (Brand New Coins)
Featuring an Iconic Image of St.George and the Dragon-soldout at the mint
Monarch:
Queen Elizabeth II
Packaging:
Single Coin Capsule
Product Description:
* 99.99% pure silver
* Iconic St. George and the Dragon design
* UK legal tender (10)
* Struck by the Royal Mint (UK)
* Internationally recognised
* Highly liquid

A timeless adventure, a tale of honour, courage and victory this is the story of St George and the dragon. In 2019, The Royal Mint has reinvented this tale for modern times and the overseas investment market.

Artist Etienne Millner's interpretation of England's patron saint features prominently on the one ounce and ten-ounce Bullion Silver Valiant Coin. The action of the design seems to fill the coin, giving it an exciting sense of vibrancy.