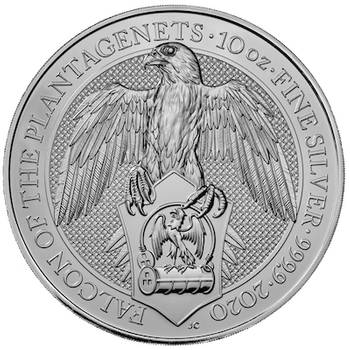 10oz 2020 Great Britain Queen's Beasts Falcon Of The Plantagenets Silver Bullion Coin (Brand New Coins)
Monarch:
Queen Elizabeth II
Design:
Queen's Beasts Falcon Of The Plantagenets
Packaging:
Single Coin Capsule
Product Description:
* 99.99% pure silver
* Sixth release of a ten coin series
* UK legal tender (10)
* Struck by the Royal Mint
* Internationally recognised
* Highly liquid
* An exclusive bullion coin from The Royal Mint's Queen's Beasts Collection

Throughout medieval England, falcons were used for hunting. Knowledge of falconry was a skill that belonged to the chivalrous and was a means to display rank. In heraldry, the falcon represents single-minded determination. It was first used in England by Edward III and would pass to his great-great-grandson Edward IV.

Following the success of previous coins bearing the Falcon of the Plantagenets, we're excited to add new coins to the range, which feature the same original portrait of Her Majesty The Queen by Royal Mint product designer, Jody Clark. Perched on top of a shield, the falcon symbolises suitability for high office.

Bullion has been chosen as an investment by individuals, governments and organisations for thousands of years. In more recent times, people have considered it a hedge against stock market volatility and geopolitical events. With silver and platinum more accessible than ever before, could now be the right time to diversify your investment portfolio?

Royal Mint product designer Jody Clark has portrayed the Falcon of the Plantagenets perched on top of a shield to emphasise its power and majesty. Jody Clark also designed the portrait of Queen Elizabeth II that appears on the obverse of The Queen's Beast coins.

The falcon sits atop a golden fetterlock, a common symbol in heraldry. This one is partially open, signifying Edward IV's claim to the throne and his struggle to advance it – he pushed the lock and took the throne.

Struck in 99.99 fine silver reflected in the coin's inscription.

The secure, detailed chainmail background texture is a signature of this bullion collection.