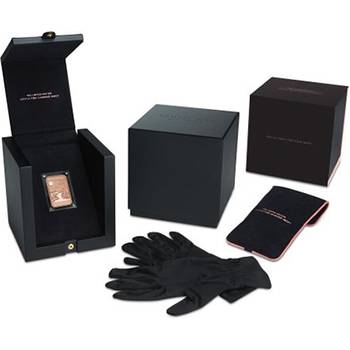 10oz Lake Argyle Pink Diamond Rose Gold Ingot
Featuring genuine Argyle pink diamonds from Western Australia!
Free Aus Shipping
Pre-sale
Packaging:
Premium Presentation Packaging
These items are on a slight delay with availability expected in approx 2 weeks. Your entire order will ship upon their arrival (please note orders will only be dispatched when entire orders are fulfilled).
Product Description:
* Eight hand-set Argyle pink diamonds in each ingot
* Extremely limited collectable
* Only 6 x 10oz pink gold ingots to be released
* Struck from 91.67% pure pink gold
* Premium presentation packaging
* Numbered Certificates of Authenticity

Western Australian icons Argyle Pink Diamonds and The Perth Mint unite to present these exclusive creations. Breathtaking Lake Argyle, the Jewel of the Kimberley, is situated in the far north of Western Australia. Thousands of visitors travel each year to witness the spectacular man made wetland constructed in the 1970s. Nestled among the rugged Kimberley landscape and located near the Argyle diamond mine, the lake holds a staggering 32 million cubic metres of water, more than 20 times the size of Sydney Harbour.

The Perth Mint will release no more than 6 10oz pink gold ingots. The reverse design of each ingot portrays the lake with seven rare Argyle pink diamonds in the night sky. The spectacular diamonds represent the five prominent stars of the Southern Cross together with the pointers Alpha Centauri and Beta Centauri. Each ingots obverse showcases an eighth Argyle pink diamond which has been handset into a representation of a starburst.

Each ingot is encased in a black presentation case and is accompanied by a numbered Certificate of Authenticity.

Technical