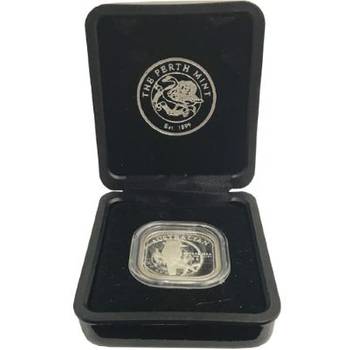 1/2 oz 2004 Australian Kookaburra Square Silver Proof Coin
Monarch:
Queen Elizabeth II
Design:
Australian Kookaburra
Product Description:
This lustrous coin features one of Australia's most iconic birds, the kookaburra. Kookaburras are mostly found throughout the Eastern states of Australia where their signature laugh-like bird call can be heard echoing through the trees.

The inspiration for this coin's design is derived from Australia's early square, kookaburra patterned pennies, originally intended to replace bulky bronze pennies and halfpennies.

This coin is legal tender under the Australian Currency Act 1965.

This coin is presented in a box with no outer sleeve. It comes with a certificate of authenticity.

With only 30,000 individual coins minted in this series, this is one you don't want to miss.