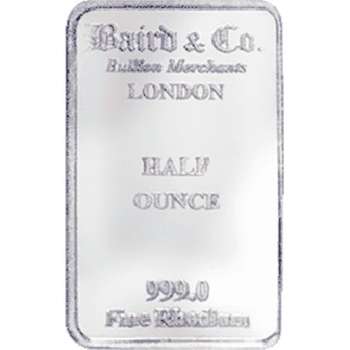 1/2 oz Baird & Co Minted Rhodium Bullion Bar
The worlds only investment grade Rhodium bar available - sealed in tamper-proof packs
All KJC product prices are fully inclusive of insurance for world wide delivery.
Product Description:
* 99.9% pure rhodium
* Baird and Co. are LBMA & LPPM Members
* High quality minted finish
* Tamper-proof packaging
* Internationally recognised
* GST included in listed price

Rhodium is an extremely rare precious metal - 100 times rarer than gold!

1/2oz minted rhodium bullion bars from Baird & Co, members of both the London Bullion Market Association and the London Platinum and Palladium Market.