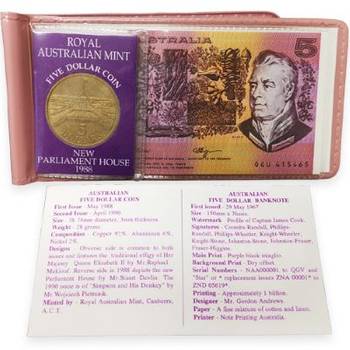 1988 Australian 5 Dollar Coin & 1967 Australian 5 Dollar Banknote Set
Mint:
Royal Australian Mint/Note Printing Australia
Monarch:
Queen Elizabeth II
Design:
Australian $5 Collection
Condition:
Mint Condition
Packaging:
Official Display Sleeve
Composition:
92% Copper, 6% Aluminium, 2% Nickel
Product Description:
This 1988 Australian 5 Dollar Coin & 1967 Australian 5 Dollar Banknote Set perfectly celebrates the history of Australia's $5 currency, great for collectors and historians. The coin is expertly struck by the Royal Australian Mint and the note is printed by Note Printing Australia.

Set Highlights:
* Features 1 Australian coin & 1 Australian
banknote - $5
* Uncirculated
* Historical Australian collectible
* Presented in an official Australian Royal Mint
sleeve
* Informational leaflet about the history of the coin
& note
* Presented by The Coin Colony
* Coin 38.74mm diameter, 3mm thickness, 28g
weight
* Note 150mm x 76mm

The obverse design of the coin depicts the traditional effigy of Queen Elizabeth II by Mr Raphael Maklouf. The reverse features the new Parliament House by Mr Stuart Devlin.

The banknote, designed by Mr Gordon Andrews, features artwork that depicts the Family Colonization Loan Society originated by Caroline Chisholm. It also features Sir Joseph Banks and an array of Australia's native flora.

Officially opened by His Royal Highness, Prince Phillip in 1965, the Royal Australian Mint is the sole producer of Australia's coins currently in circulation.