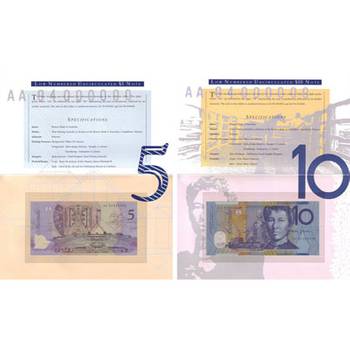 1994 Australia Five Dollars and Ten Dollars Fraser/Evans
Design:
Five Dollars and Ten Dollars - Fraser/Evans
Packaging:
Note Printing Australia Folders
All KJC product prices are fully inclusive of insurance for world wide delivery.
Product Description:
Low Numbered Uncirculated $5 Note and $10 Note from Note Printing Australia. Specially printed and selected for inclusion in these collection folders. Matching serial numbers AA 94 005 428. Mc DYF 2 and Mc DYF 4.