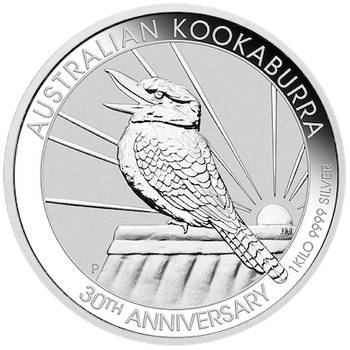 1kg 2020 Australian Kookaburra Silver Bullion Coin
Monarch:
Queen Elizabeth II
Packaging:
Acrylic Capsule
Weight (troy/oz):
32.1507
These items are on a slight delay with availability expected in approx 2 weeks. Your entire order will ship upon their arrival (please note orders will only be dispatched when entire orders are fulfilled).
Product Description:

* Government assurance of weight and purity
* Three coin sizes
* New 30th anniversary reverse & obverse artistry
* Strong collector interest

A landmark achievement, the Australian Kookaburra Bullion Coin celebrates its 30th year in 2020 with a special anniversary coin design.

A laughing kookaburra, the largest member of the kingfisher species, is synonymous with the Australian outback. The Perth Mint is pleased to present three bullion coins featuring the kookaburra, meticulously struck from 99.99% pure silver in 1 kilo sizes.

No mintage limit applies to the 1 kilo coins, however production will close at the end of 2020 and The Perth Mint will declare each coins official mintage.

Each coin in this program is issued as legal tender under the Australian Currency Act 1965.

The reverse of each coin depicts a kookaburra perched on a roof at dawn with stylised rays of light in the background. Also included in the design is the inscription AUSTRALIAN KOOKABURRA 30TH ANNIVERSARY, The Perth Mints P mintmark, and the weight and purity. A security feature in the form of a micro-laser engraved letter within the coins AUSTRALIAN KOOKABURRA heading. It is only detectable under a magnifying glass.

The obverse of each coin bears a representation of Stuart Devlins depiction of a kookaburra on a tree stump surrounded by native foliage, as it appeared on The Perth Mints 1990 Australian Kookaburra Silver Bullion Coin. Also included is the Jody Clark effigy of Her Majesty Queen Elizabeth II, the inscription 1990 2020, and the monetary denomination.