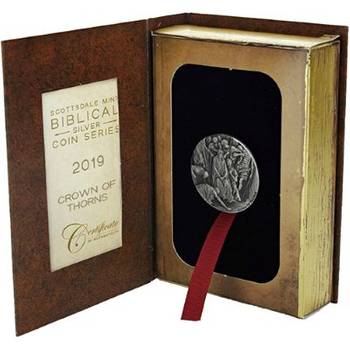 2oz 2019 Biblical Series Crown Of Thorns Silver Coin (Brand New Coins)
Limited Release of Only 1,499 Coins!
Monarch:
Queen Elizabeth II
Design:
Biblical Series Crown Of Thorns
Finish:
Antiqued High Relief
Packaging:
Replica Bible Box
These items are on a slight delay with availability expected in approx 2-3 weeks. Your entire order will ship upon their arrival (please note orders will only be dispatched when entire orders are fulfilled).
Product Description:
* 99.9% pure silver
* Produced by Scottsdale Mint
* Stunning high relief design
* Antiqued finish
* Niue legal tender
* Limited mintage of only 1,499 coins
* Each coin features a laser-etched serial number on the rim
* Packaged in replica Bible display box

Scottsdale Mint is proud to announce the latest instalment of the Biblical Silver Coin Series, the Crown of Thorns 2oz Antiqued High Relief Silver Coin. These limited mintage collectibles are inspired by the wood-engraved illustrations of Gustave Dor, the French master craftsman and artist. With their rimless high-relief design and antique-proof finish, these 99.9% pure silver pieces bring to life the legendary stories and figures of the Bible.

Each coin is antique-brushed and distressed by a team of artisans and technicians, directed by master sculptor D'Almeida Novissimo. The final results are unique works of art honouring each coin's timeless story. The obverse side of the coin features the Raphael Maklouf effigy of Her Majesty Queen Elizabeth II. The 2019 Biblical Silver Coin Series is limited in mintage to 1,499 coins per each of the six scheduled 2019 releases. Each coin comes packaged in Scottsdale Mint's official Bible replica gift box.