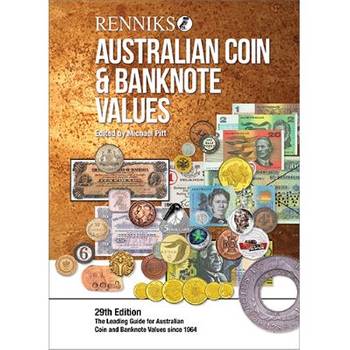 Rennicks Australian Coin & Banknote Values 29th Edition
The Leading Guide for Australian Coin and Banknote Values Since 1964
Weight (troy/oz):
32.1507
These items are on a slight delay with availability expected in approx 2-3 weeks. Your entire order will ship upon their arrival (please note orders will only be dispatched when entire orders are fulfilled).
Product Description:
* Australia's leading guide for coin and banknote values since 1964
* Comprehensive guide featuring over 3,600 images and thousands of valuations
* Must-have for beginner or advanced collectors
* Easy to identify quality reproductions

This leading Australian coin and banknote valuation guide covers copper, silver, gold, nickel and alloy coins and notes used in Australia from 1800 to the present day.

Subjects include pre-decimal and decimal currency as well as privately issued banknotes, war issues, and privately issued tokens. Also included are the latest releases from the Royal Australian Mint, Perth Mint, and Australia Post Numismatic Covers.

Edited by Michael T Pitt who has been actively designing and editing Rennicks Australian Coin & Banknote Values since 1990.