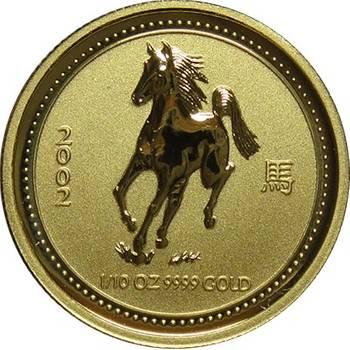 1/10oz 2002 Year of the Horse Gold Bullion Coin - Series I (Mint Condition)
Scarce Series I Lunar Gold - Mintage just 18,434
Product Description:
* 99.99% pure gold (24k)
* Australian legal tender
* Chinese Lunar Year Theme - Horse
* Scarce Series I
* Struck by the Perth Mint
* Internationally recognised
* Highly Liquid
* Mintage just 18,434
* Perfect Uncirculated quality as issued and presented in protective capsule

The Australian Lunar series of gold coins epitomizes The Perth Mints rich tradition of minting investor coins portraying Chinese themes. This years releases mark the 2002 Year of the Horse, one of 12 animals associated with the ancient Chinese lunar calendar.
Struck by The Perth Mint from 1/10oz of 99.99% pure gold, each coin is issued as legal tender under the Australian Currency Act 1965, the undisputed guarantee of its weight and purity. Only 18,434 coins minted from 80,000 limit.