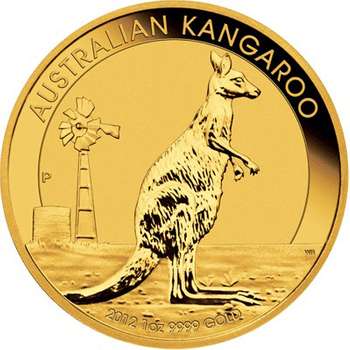 1 oz 2012 Australian Kangaroo Gold Bullion Coin
Condition:
Mint Condition
Packaging:
Acrylic Capsule
All KJC product prices are fully inclusive of insurance for world wide delivery.
Product Description:

* Australian legal tender
* Iconic kangaroo design
* Struck by the Perth Mint
* Mintage just 197,901


Struck between 1986 & 1988 by the Perth Mint featuring a Natural Nugget Design then from 1989 to 2012 they are struck with the Iconic Kangaroo Design.
Struck by The Perth Mint from 99.99% pure gold, each coin is issued as legal tender under the Australian Currency Act 1965, the undisputed guarantee of its weight and purity.
Portraying creative new reverse artistry, every gold bullion coin also features The Perth Mints historic P mintmark, a traditional symbol of quality trusted by investors worldwide.