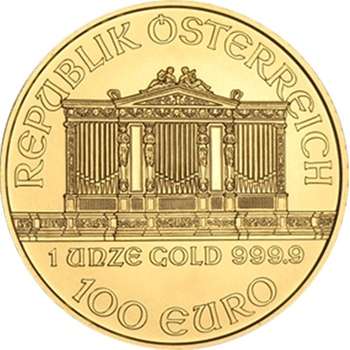 1 oz Austrian Philharmonic Gold Bullion Coin - Mixed Dates
Condition:
Mint Condition
Designer:
Thomas Pesendorfer
All KJC product prices are fully inclusive of insurance for world wide delivery.
Product Description:
* 99.99% pure gold (24k)
* Euro legal tender
* Struck by the Austrian Mint
* Internationally recognised
* Highly liquid
*Mixed Dates of KJC choice

First introduced in 1989, it contains a whole ounce of gold. The Troy ounce is the precious metal trades unit of weight and the classic weight for bullion coins. It has a face value of 100 Euro.

First issued in October 1989, the Vienna Philharmonic gold coin is Europes most successful investment coin. According to the World Gold Council, it was the best selling gold coin in the world in 1992, 1995, 1996 and 2000.

The coin was designed by Thomas Pesendorfer, the Austrian Mints chief engraver. For the reverse side he chose eight characteristic orchestral instruments: four violins either side of a cello in the foreground and the Viennese horn, the bassoon and the harp behind. The obverse side features the famous pipe organ from the Goldener Saal of the Viennese Musikverein, recognised throughout the world as the backdrop to the Philharmonics New Year concerts. Above the organ, the words Republik Oesterreich stand in a semi-circle, while the weight and purity of the coin, with the date of issue below, stand beneath the balustrade of the organ. At the bottom edge of the coin appears its face value. The edge of the coin is reeded.