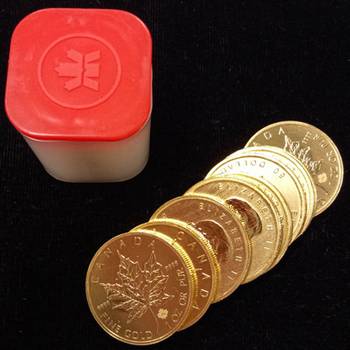 1 oz Canadian Maple Leaf Gold Bullion Coin Mixed Dates - 10 oz Mint Tube
Product Description:

* Canadian legal tender
* Iconic Maple Leaf design
* Struck by the Royal Canadian Mint
* Internationally recognised
* Highly Liquid
* Dates of KJC's choice depending on availability
* lots of 10 presented in official RCM tubes
* Photo an indication only


The Canadian Gold Maple Leaf is the official gold bullion coin of Canada and has been minted by the Royal Canadian Mint since 1979. Gold Maple Leafs were the first bullion coin minted in 24 carat gold, struck from 99.9% pure gold between 1979 and 1982. From 1983 they have been minted in 99.99% pure gold.

The obverse features Queen Elizabeth II while the reverse design features the iconic maple leaf. 1oz Gold Maples Leafs are legal tender Canadian coins with a face value of $50 CAD.