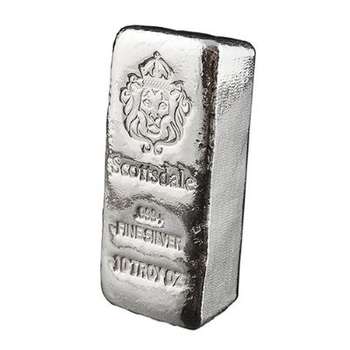 10 oz Scottsdale Chunky Silver Bullion Cast Bar
Compact cast bar featuring the Scottsdale Lion hallmark imprinted on each bar
Condition:
Brand New Bars
All KJC product prices are fully inclusive of insurance for world wide delivery.
Product Description:
Cast bar featuring Scottsdale Lion hallmark along with the weight and purity. Known as `chunky` bars to collectors and stackers, no two bars are exactly alike.

`Chunky` bar, no two exactly alike. Internationally recognised and Highly liquid.