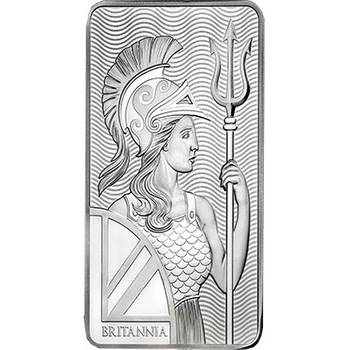 10oz Royal Mint Lady Britannia Minted Silver Bullion Bar (Brand New Bars)
Iconic Lady Britannia Design - 99.9% Pure Silver
Product Description:
* 99.9% pure silver
* Produced by The Royal Mint
* High quality minted finish
* Iconic Lady Britannia design
* LBMA accredited Good Delivery Brand
* Internationally recognised
* Highly liquid
* Individually packaged in plastic seal

These high quality 10oz minted silver bullion bars are refined to 99.9% purity by the United Kingdom's Royal Mint.

The design features a new interpretation of Britannia, the spirit of a nation, brought to life by The Royal Mints Coin Design team and the Principle Designer Jody Clark.

Each bar comes individually packaged in plastic seal.