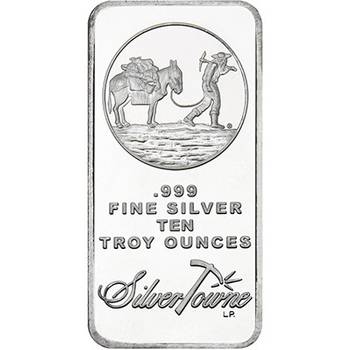 10oz SilverTowne Minted Silver Bullion Bars (Brand New Bars)
99.9% Pure Silver
Product Description:
* 99.9% pure silver
* High quality minted finish
* Internationally recognised
* Highly liquid

99.9% pure silver bullion bars produced by the renowned US private mint SilverTowne who are known for producing quality silver bullion products at the best prices. These 10oz silver bars feature the Trademark image of the Prospector and Donkey, these bars are also known as "Donkey Bars" or "Logo Bars".

The obverse design features the SilverTowne Trademark prospector and his trusty burro on the front in a perfect circle with the SilverTowne logo at the bottom along with the silver purity and weight designation of ".999 FINE SILVER TEN TROY OUNCES". The reverse is a crisscross waffle pattern with the SilverTowne Logo and Donkey and Prospector again in the centre.

Custom minted from 99.9% pure silver at the SilverTowne Mint in Winchester, Indiana.