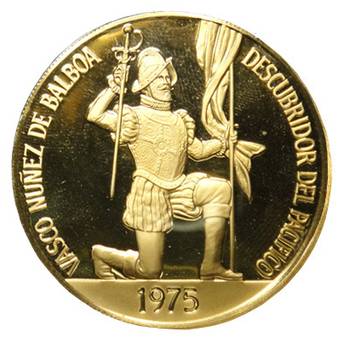 1975 Republic of Panama 500 Balboa Gold Proof Coin
500th Anniversary - Birth of Balboa
Denomination:
500 Balboas
Design:
Vasco Nunez De Balboa
Packaging:
Displaying Card
Product Description:
Struck by The Franklin Mint from 90.00% pure gold from Panama were issued to celebrate the famous Spanish explorer, governor and conquistador Vasco Nunez de Balboa.

Obverse: Features kneeling Vasco Nunez de Balboa in military uniform with sword in right hand, flag in left hand. Reverse: Panama coat of arms above fineness and denomination.