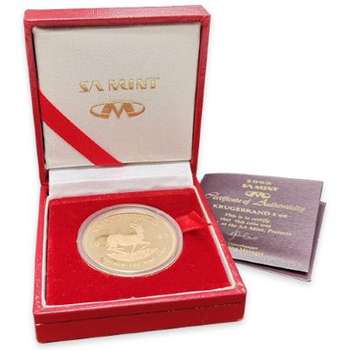 1 oz 1995 South Africa Krugerrand Gold Proof Coin
Condition:
Mint Condition
Designer:
Coert Steynberg
Packaging:
Presentation Case
All KJC product prices are fully inclusive of insurance for world wide delivery.
Product Description:
The Krugerrand has been minted since 1967 and is the most widely held bullion coin in the world. More than 48 million Krugerrands have been minted by the South African Mint. The Krugerrand is struck from 22 carat gold (91.67%), with the remaining 8.33% of the coins weight being copper. Each Kruggerand weights 33.93grams and contains 1oz of actual gold.

* Proof quality 22ct gold (91.67% pure)
* Contains 1oz pure gold
* Iconic gold coin
* Internationally recognised
* GST included in price
* Presentation Case

The obverse design features Paul Kruger, the famous South African President, while the reverse design features the springbok antelope. Although Krugerrands are considered legal tender coins they do not have a face value and are traded based on the prevailing value of their gold content.