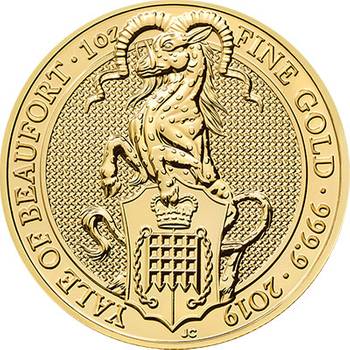 1oz 2019 Great Britain Queen's Beasts Yale Of Beaufort Gold Bullion Coin (Brand New Coins)
Seventh design in the ten coin series!
Monarch:
Queen Elizabeth II
Design:
Queen's Beasts Yale Of Beaufort
Product Description:
* 99.99% pure gold
* Seventh design of a ten coin series
* UK legal tender (100)
* Struck by the Royal Mint (UK)
* Internationally recognised
* Highly liquid

The Royal Mint is excited to add a new bullion coin to The Queens Beasts Collection. Inspired by ancient symbols of power and identity, the range brings to life the ten imposing statues that lined the entrance to Westminster Abbey in 1953 at the coronation of Her Majesty The Queen.

The yale is a mythical beast, described as the size of a hippopotamus with the tail of an elephant, the jaws of a boar and of a black or tawny colour. It descends to The Queen through Henry VII, who inherited it from his mother, Lady Margaret Beaufort, who went on to play a central role in the Wars of the Roses. Her position as matriarch of the Tudor dynasty gave the yale prestige and symbolic meaning.

Following the success of previous coins in the collection, the latest release features another original portrait by Royal Mint coin designer Jody Clark. Regal, rare and magnificent, its most prominent feature is its horns which are a focal point in the design.