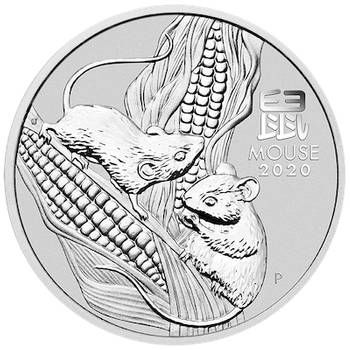 1oz 2020 Lunar Year Of The Mouse - Series III Silver Bullion Coin (Brand New Coins)
Monarch:
Queen Elizabeth II
Design:
Lunar Year Of The Mouse
Packaging:
Acrylic Capsule
Product Description:
* First year of Lunar Series III
* 99.99% pure silver
* Australian legal tender
* Internationally recognised
* Highly liquid
* New reverse artistry
* Limited mintage on 1oz coin
* Strong collector interest

These magnificent silver coins celebrate the Year of the Mouse, the first of twelve animals associated with the ancient Chinese lunar calendar.

Those born under the sign of the Chinese lunar mouse in 2020, 2008, 1996, 1984, 1972 and every 12th preceding year, are said to be smart, resourceful, adaptable and kind. Possessing a rich imagination and strong intuition, mice rely on quick wits and an enterprising nature to find opportunities for success in almost all endeavours.

The Perth Mint will produce up to 300,000 1oz coins. Production will cease when the mintage is fully sold or at the end of the series, whichever comes first. Due to the low mintage of the 1oz size it is highly collectable and is sure to sell out fast.

Meticulously struck from 99.99% pure silver, the coins are issued as legal tender under the Australian Currency Act 1965.

Each coins reverse portrays two mice foraging on husks of corn and includes a security feature in the form of a micro-laser engraved letter within the design. It is only detectable under a magnifying glass. Also included in the design is the Chinese character for mouse, the inscription MOUSE 2020 and The Perth Mint P mintmark.

The obverse of each coin depicts the Jody Clark effigy of Her Majesty Queen Elizabeth II, the 2020 year-date, the weight and fineness, and the monetary denomination.

Each bullion coin is presented in a protective acrylic capsule.