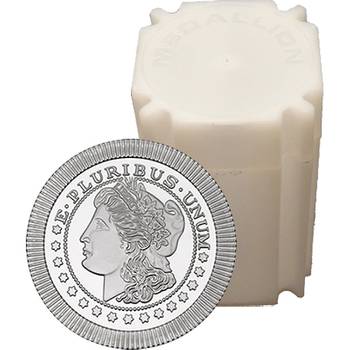 1oz SilverTowne Morgan Silver Bullion Rounds Tube of 20 Rounds (20oz) (Brand New Rounds)
99.9% Pure Silver - New Stackable Rim Design!
Design:
Morgan Stackable Round
Product Description:
* 99.9% pure silver
* Produced by SilverTowne
* High quality minted finish
* Internationally recognised
* Highly liquid
* Iconic design based on US Morgan Dollar
* New interlocking stackable rim
* Mint tube of 20 rounds thus 20oz silver in total

99.9% pure Silver Bullion Rounds produced from the renowned US private mint SilverTowne in Winchester, Indiana. SilverTowne are known for producing quality silver bullion products at the best prices.

These rounds are based on the concept of easy stacking. Each 1oz silver round features a special rim so when they are stacked on top of one another, they will easily interlock making your stacks stay in place rather than falling over! This feature makes these very easy and convenient to store.