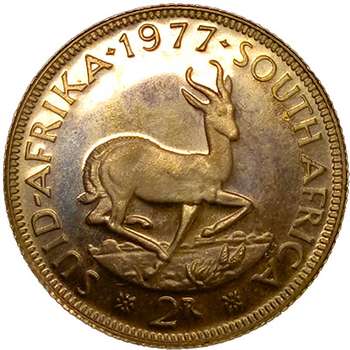 2 Rand South Africa Krugerrand Gold Bullion Coin - Mixed Dates
All KJC product prices are fully inclusive of insurance for world wide delivery.
Product Description:
The 2 Rand Gold Coin was minted by the South African Rand refinery between 1961 – 1983. These coins have the exact same dimensions and bullion content as its twin, the British sovereign. The Kruggerand was first introduced in 1960 and offered as an investment opportunity for the opportunistic average citizen.

This coin is a unique example of a bullion coin which has no face value, as the value of the coin was backed by the actual bullion value contained within it. The words "South Africa" and physical gold content are inscribed on the coin in English and Afrikaans. The Reverse depicts Jan Van Riebeeck, the founder of Cape Town as well as "Eendrag Maak Mag" or "Unity is Strength".