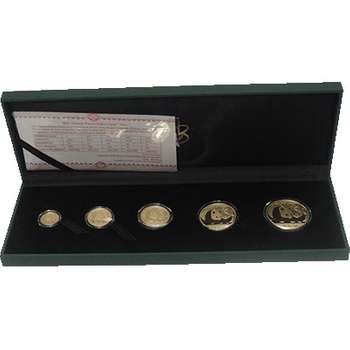 2011 Chinese Panda Gold Bullion Five Coin Set
Mint:
Peoples Republic Of China
Condition:
Mint Condition
Packaging:
Original Mint Seals With Chinese Panda Gold Coin Display Box
All KJC product prices are fully inclusive of insurance for world wide delivery.
Product Description:
Five coins set contains 1oz, 1/2oz, 1/4oz, 1/10oz and 1/20oz coins. Contains 1.9oz pure gold in total.

The Chinese Gold Panda is the official gold bullion coin of the People's Republic of China and has been in production since 1982.

Obverse: features a Temple of Heaven design.

Reverse: features a panda design that changes every year.

Chinese legal tender (Yuan), Internationally recognised and Highly liquid.

Each coin is issued as Chinese legal tender. All are brand new coins as issued housed in hard plastic with a Chinese Panda Gold Coin display box and certificate of authenticity.