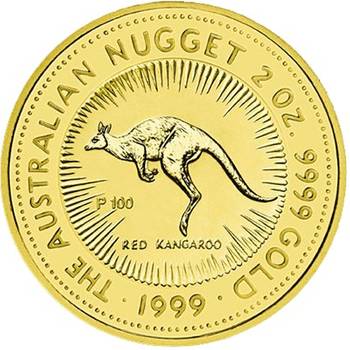 2oz Kangaroo Gold Bullion Coin- Dates of KJC choice & now on special!
Scarce no longer produced by Perth Mint
Product Description:
* Scarce issue and this size no longer produced with the kangaroo design.
* Australian legal tender.
* Perfect Uncirculated quality .

Struck by The Perth Mint from 99.99% pure gold, each coin is issued as legal tender under the Australian Currency Act 1965, the undisputed guarantee of its weight and purity.
Portraying creative new reverse artistry, every gold bullion coin also features The Perth Mints historic P mintmark, a traditional symbol of quality trusted by investors worldwide.